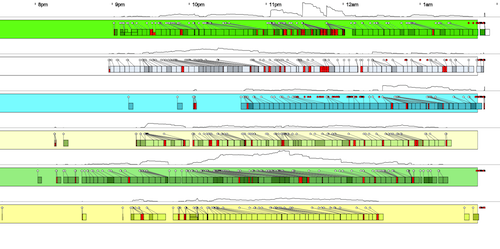 Wow. What an amazing time. Thanks to everyone who made the night possible and to everyone who rocked out. This was a historic night for Voicebox and we're so proud to share it with such an awesome community. Here's some highlights:
API
In case you missed it, our API is published here:
http://voiceboxpdx.com/api
Use control code "HSCL" to test our API against a mock player.
Hacks of the Night
@substack wrapped our API in an npm-module!
Henry created a nodejitsu toy:
http://voicebox.nodejitsu.com/<room code>
will add a random song from our Top 100 to your queue.
Awesome!
Timeline of Plays
This timeline depicts the flow of plays at Voicebox throughout the event in each of the 6 karaoke suites (click for full size):

Salient points
The thin lines represent the queue depth at that time
The dots are a "song added event"
The dots are connected via a line to a box representing the starting time and duration of the song played
Red dots are songs that were never started
Red boxes are songs that were skipped soon after starting
Dark boxes are songs that are skipped near the end
Can you find the moment that @substack rickrolled us?
The Playlist
Here's all the plays of the evening!  These are songs that were actually sung to completion, it doesn't include skipped songs.  Noders really seem to like "Fresh Prince" !!
Total Plays: 360
| Rank | Title | Artist | Code | Plays |
| --- | --- | --- | --- | --- |
| 1 | Bohemian Rhapsody | Queen | 68951 | 7 |
| 2 | Never Gonna Give You Up | Astley, Rick | 1399 | 6 |
| 3 | Fresh Prince | TV Theme | 7387 | 5 |
| 4 | Sabotage | Beastie Boys, The | 69454 | 4 |
| 5 | Don't Stop Believin' | Journey | 67277 | 4 |
| 6 | Wonderwall | Oasis | 56784 | 4 |
| 7 | Blister In The Sun | Violent Femmes | 12043 | 4 |
| 8 | Ice Ice Baby | Vanilla Ice | 3625 | 4 |
| 9 | Tainted Love | Soft Cell | 1074 | 3 |
| 10 | Tiny Dancer | John, Elton | 868 | 3 |
| 11 | Baby Got Back | Sir Mix-A-Lot | 2490 | 3 |
| 12 | Buddy Holly | Weezer | 2079 | 3 |
| 13 | Duality | Slipknot | 67738 | 3 |
| 14 | Santeria | Sublime | 68033 | 3 |
| 15 | I'm On A Boat | Lonely Island, The & T-Pain | 57053 | 3 |
| 16 | Whole New World, A | Bryson, Peabo & Regina Belle | 63541 | 3 |
| 17 | Part Of Your World | Little Mermaid, The | 56865 | 2 |
| 18 | Friday | Black, Rebecca | 67737 | 2 |
| 19 | Sweet Child O' Mine | Guns N' Roses | 63208 | 2 |
| 20 | Regulate | Warren G & Nate Dogg | 2480 | 2 |
| 21 | White And Nerdy | Yankovic, 'Weird Al' | 63376 | 2 |
| 22 | Intergalactic | Beastie Boys, The | 69703 | 2 |
| 23 | Free Fallin' | Petty, Tom | 1928 | 2 |
| 24 | Semi-Charmed Life | Third Eye Blind | 12093 | 2 |
| 25 | Faith | Limp Bizkit | 63371 | 2 |
| 26 | Come As You Are | Nirvana | 56897 | 2 |
| 27 | Fight For Your Right To Party | Beastie Boys, The | 67939 | 2 |
| 28 | Forgot About Dre | Dr. Dre & Eminem | 56581 | 2 |
| 29 | I'll Make Love To You | Boyz II Men | 4109 | 2 |
| 30 | Stay (I Missed You) | Loeb, Lisa & The Nine Stories | 1719 | 2 |
| 31 | Ironic | Morissette, Alanis | 12078 | 2 |
| 32 | F#ck You | Cee Lo Green | 67287 | 2 |
| 33 | Hey Jude | Beatles, The | 3037 | 2 |
| 34 | Mother | Danzig | 69434 | 2 |
| 35 | I Wanna Be Sedated | Ramones, The | 66519 | 2 |
| 36 | Sweet Home Alabama | Lynyrd Skynyrd | 67886 | 2 |
| 37 | You Oughta Know | Morissette, Alanis | 6031 | 2 |
| 38 | Enter Sandman | Metallica | 63152 | 2 |
| 39 | Under The Bridge | Red Hot Chili Peppers | 67946 | 2 |
| 40 | Bullet With Butterfly Wings | Smashing Pumpkins | 2084 | 2 |
| 41 | Loser | Beck | 1665 | 2 |
| 42 | I BELIEVE I CAN FLY | R. Kelly | 48899 | 2 |
| 43 | Short Skirt, Long Jacket | Cake | 10739 | 2 |
| 44 | White Wedding | Idol, Billy | 56671 | 2 |
| 45 | Bad Romance | Lady Gaga | 66207 | 2 |
| 46 | Back Door Man | Doors, The | 68627 | 2 |
| 47 | Stand By Me | King, Ben E. | 268 | 2 |
| 48 | Fire Water Burn | Bloodhound Gang, The | 67044 | 2 |
| 49 | I Want It That Way | Backstreet Boys, The | 3670 | 2 |
| 50 | These Boots Are Made For Walkin' | Sinatra, Nancy | 471 | 2 |
| 51 | Head Like A Hole | Nine Inch Nails | 66280 | 1 |
| 52 | Sex On Fire | Kings Of Leon | 57032 | 1 |
| 53 | Gucci Gucci | Kreayshawn | 69428 | 1 |
| 54 | Lookin' Out My Back Door | Creedence Clearwater Revival | 4668 | 1 |
| 55 | Burning Down The House | Talking Heads, The | 2156 | 1 |
| 56 | Fly Me To The Moon | Sinatra, Frank | 6246 | 1 |
| 57 | Wanted Dead Or Alive | Bon Jovi | 63425 | 1 |
| 58 | Kiss Me | Sixpence None The Richer | 12106 | 1 |
| 59 | I Love This Bar | Keith, Toby | 5061 | 1 |
| 60 | I'm Gonna Be (500 Miles) | Proclaimers, The | 8081 | 1 |
| 61 | Distance, The | Cake | 63475 | 1 |
| 62 | 99 Problems | Jay-Z | 11416 | 1 |
| 63 | Rocket Man | John, Elton | 67941 | 1 |
| 64 | Hallelujah | Wainwright, Rufus | 69149 | 1 |
| 65 | New York, New York | Sinatra, Frank | 3082 | 1 |
| 66 | Criminal | Apple, Fiona | 3687 | 1 |
| 67 | Smells Like Teen Spirit | Nirvana | 68470 | 1 |
| 68 | We Can Work It Out | Beatles, The | 67393 | 1 |
| 69 | Don Giovanni | Rancid | 66796 | 1 |
| 70 | Ring Of Fire | Cash, Johnny | 997 | 1 |
| 71 | Complicated | Lavigne, Avril | 4172 | 1 |
| 72 | Just A Friend | Biz Markie | 11381 | 1 |
| 73 | Chop Suey | System Of A Down | 11263 | 1 |
| 74 | Wavin' Flag (The Celebration Mix) | K'naan | 69563 | 1 |
| 75 | Summertime | Joplin, Janis | 69326 | 1 |
| 76 | Space Oddity | Bowie, David | 69488 | 1 |
| 77 | It's Still Rock & Roll To Me | Joel, Billy | 5658 | 1 |
| 78 | Time After Time | Lauper, Cyndi | 1365 | 1 |
| 79 | Kiss From A Rose | Seal | 1226 | 1 |
| 80 | Inside Out | Eve 6 | 8742 | 1 |
| 81 | HONESTY | Billy Joel | 47860 | 1 |
| 82 | Don't Stop Me Now | Queen | 56773 | 1 |
| 83 | I Feel Fine | Beatles, The | 1058 | 1 |
| 84 | Business Time | Flight Of The Conchords | 69185 | 1 |
| 85 | Round & Round | Ratt | 2215 | 1 |
| 86 | Edge Of Seventeen | Nicks, Stevie | 1542 | 1 |
| 87 | Sulfur | Slipknot | 63434 | 1 |
| 88 | In Bloom | Nirvana | 56882 | 1 |
| 89 | Since U Been Gone | Clarkson, Kelly | 12554 | 1 |
| 90 | Under The Sea | Little Mermaid, The | 67336 | 1 |
| 91 | Tom Sawyer | Rush | 66605 | 1 |
| 92 | Rolling In The Deep | Adele | 67494 | 1 |
| 93 | My Funny Valentine | Sinatra, Frank | 5292 | 1 |
| 94 | Manah Manah | Muppets, The | 69576 | 1 |
| 95 | It Wasn't Me | Shaggy & Ricardo "Rikrok" Ducent | 1600 | 1 |
| 96 | Safety Dance, The | Men Without Hats | 68666 | 1 |
| 97 | The Most Beautiful Girl (In the Room) | Flight Of The Conchords | 56915 | 1 |
| 98 | Forever In Blue Jeans | Diamond, Neil | 9124 | 1 |
| 99 | America, F–k Yeah | Team America | 66234 | 1 |
| 100 | Sure Shot | Beastie Boys, The | 69807 | 1 |
| 101 | Billy's Got His Beer Goggles On | McCoy, Neal | 5235 | 1 |
| 102 | Freak On A Leash | Korn | 68328 | 1 |
| 103 | Pony | Ginuwine | 66188 | 1 |
| 104 | Starlight | Muse | 11947 | 1 |
| 105 | House Of The Rising Sun, The | Animals, The | 3112 | 1 |
| 106 | Like A Virgin | Madonna | 469 | 1 |
| 107 | Show Must Go On, The | Queen | 56765 | 1 |
| 108 | I'm So Ronery | Team America | 69183 | 1 |
| 109 | One Week | Barenaked Ladies | 706 | 1 |
| 110 | Decade Under The Influence, A | Taking Back Sunday | 68588 | 1 |
| 111 | Hand In My Pocket | Morissette, Alanis | 57140 | 1 |
| 112 | Affair Of The Heart | Springfield, Rick | 67236 | 1 |
| 113 | Toxicity | System Of A Down | 11279 | 1 |
| 114 | Livin' On A Prayer | Bon Jovi | 5766 | 1 |
| 115 | Jumper | Third Eye Blind | 747 | 1 |
| 116 | Alive | Pearl Jam | 11876 | 1 |
| 117 | That Old Black Magic | Sinatra, Frank | 6248 | 1 |
| 118 | Danger Zone | Loggins, Kenny | 12545 | 1 |
| 119 | Creep | Radiohead | 69148 | 1 |
| 120 | Come Together | Beatles, The | 2430 | 1 |
| 121 | Twist & Shout | Beatles, The | 3055 | 1 |
| 122 | Zombie | Cranberries, The | 67576 | 1 |
| 123 | Love Will Tear Us Apart | Joy Division | 56900 | 1 |
| 124 | Bye Bye Bye | N Sync | 1857 | 1 |
| 125 | Lucy In The Sky With Diamonds | Beatles, The | 3970 | 1 |
| 126 | Space Cowboy | Steve Miller Band, The | 6121 | 1 |
| 127 | Under Pressure | Bowie, David & Queen | 67760 | 1 |
| 128 | Poker Face | Lady Gaga | 67278 | 1 |
| 129 | Any Way You Want It | Journey | 68711 | 1 |
| 130 | One Way Or Another | Blondie | 6706 | 1 |
| 131 | Paint It Black | Rolling Stones, The | 8343 | 1 |
| 132 | Boys In The Hood | Dynamite Hack | 6474 | 1 |
| 133 | We Want Some P***Y! | 2 Live Crew | 67053 | 1 |
| 134 | Here I Go Again | Whitesnake | 1484 | 1 |
| 135 | Mrs. Robinson | Simon & Garfunkel | 65232 | 1 |
| 136 | Final Countdown, The | Europe | 68603 | 1 |
| 137 | Call Me Maybe | Jepsen, Carly Rae | 69669 | 1 |
| 138 | Hotel California | Eagles, The | 8634 | 1 |
| 139 | Dancing Queen | ABBA | 8884 | 1 |
| 140 | Dirty Old Town | Pogues, The | 66798 | 1 |
| 141 | Gangsta's Paradise | Coolio | 4276 | 1 |
| 142 | Wonderboy | Tenacious D | 63392 | 1 |
| 143 | So Whatcha Want | Beastie Boys, The | 69806 | 1 |
| 144 | Waterfalls | TLC | 3720 | 1 |
| 145 | Me And Bobby McGee | Joplin, Janis | 477 | 1 |
| 146 | We Didn't Start The Fire | Joel, Billy | 4699 | 1 |
| 147 | Push It | Salt-N-Pepa | 69818 | 1 |
| 148 | Amish Paradise (Gangsta's Paradise) | Yankovic, 'Weird Al' | 7767 | 1 |
| 149 | Comfortably Numb | Pink Floyd | 66198 | 1 |
| 150 | Downeaster Alexa, The | Joel, Billy | 67374 | 1 |
| 151 | Fireflies | Owl City | 63383 | 1 |
| 152 | Peaches | Presidents Of USA | 66335 | 1 |
| 153 | Breakthru' | Queen | 56777 | 1 |
| 154 | I Will Survive | Gaynor, Gloria | 68950 | 1 |
| 155 | Phantom Limb | Shins, The | 10679 | 1 |
| 156 | Pretty Fly For A White Guy | Offspring, The | 6340 | 1 |
| 157 | Paper Planes | M.I.A. | 56929 | 1 |
| 158 | Rock The Casbah | Clash, The | 2506 | 1 |
| 159 | Tootsie Roll | 69 Boys | 66178 | 1 |
| 160 | Moonage Daydream | Bowie, David | 67135 | 1 |
| 161 | Total Eclipse Of The Heart | Tyler, Bonnie | 288 | 1 |
| 162 | Eternal Flame | Bangles, The | 6703 | 1 |
| 163 | Lump | Presidents Of USA | 2088 | 1 |
| 164 | 9 To 5 | Parton, Dolly | 317 | 1 |
| 165 | Life On Mars? | Bowie, David | 11799 | 1 |
| 166 | Separate Ways (Worlds Apart) | Journey | 68717 | 1 |
| 167 | Say It Ain't So | Weezer | 56719 | 1 |
| 168 | Karma Chameleon | Culture Club | 68459 | 1 |
| 169 | Bad Touch, The | Bloodhound Gang, The | 6405 | 1 |
| 170 | Lady Is A Tramp, The | Sinatra, Frank | 4297 | 1 |
| 171 | Strawberry Fields Forever | Beatles, The | 67400 | 1 |
| 172 | Boxer, The | Simon & Garfunkel | 1986 | 1 |
| 173 | I Ran (So Far Away) | Flock Of Seagulls | 68387 | 1 |
| 174 | This Ain't A Scene, It's An Arms Race | Fall Out Boy | 11021 | 1 |
| 175 | Tribute | Tenacious D | 63374 | 1 |
| 176 | Don't You Want Me | Human League, The | 3610 | 1 |
| 177 | All Along The Watchtower | Hendrix, Jimi | 66397 | 1 |
| 178 | Ziggy Stardust | Bowie, David | 5919 | 1 |
| 179 | One Of Us | Osborne, Joan | 492 | 1 |
| 180 | Move This | Technotronic | 63514 | 1 |
| 181 | We Found Love | Rihanna feat Calvin Harris | 69574 | 1 |
| 182 | Barbie Girl | Aqua | 56922 | 1 |
| 183 | Funhouse | Pink | 63436 | 1 |
| 184 | Man In The Mirror, The | Jackson, Michael | 4256 | 1 |
| 185 | Back In The U.S.S.R. | Beatles, The | 5777 | 1 |
| 186 | Hello Goodbye | Beatles, The | 67413 | 1 |
| 187 | Thunder Road | Springsteen, Bruce | 2010 | 1 |
| 188 | Anarchy In The UK | Sex Pistols | 67379 | 1 |
| 189 | Chasing Pavements | Adele | 11193 | 1 |
| 190 | Take On Me | A-Ha | 5449 | 1 |
| 191 | Next Girl | Black Keys, The | 69666 | 1 |
| 192 | Light My Fire | Doors, The | 3480 | 1 |
| 193 | F**** Her Gently | Tenacious D | 66388 | 1 |
| 194 | Wish You Were Here | Pink Floyd | 5636 | 1 |
| 195 | Maps | Yeah Yeah Yeahs | 12574 | 1 |
| 196 | Maxwell's Silver Hammer | Beatles, The | 9813 | 1 |
| 197 | I'm Too Sexy | Right Said Fred | 66883 | 1 |
| 198 | Love Shack | B-52's, The | 244 | 1 |
| 199 | You've Lost That Loving Feeling | Righteous Brothers, The | 272 | 1 |
| 200 | Desperado | Eagles, The | 8191 | 1 |
| 201 | Like A Prayer | Madonna | 223 | 1 |
| 202 | Raspberry Beret | Prince | 66189 | 1 |
| 203 | Hey Ya | Outkast | 67944 | 1 |
| 204 | Rooster | Alice In Chains | 56911 | 1 |
| 205 | Ignition Remix | Kelly, R. | 67196 | 1 |
| 206 | Landslide | Fleetwood Mac | 2352 | 1 |
| 207 | Turning Japanese | Vapors, The | 56921 | 1 |
| 208 | This Is How We Do It | Jordan, Montell | 3684 | 1 |
| 209 | It Was A Good Day | Ice Cube | 63542 | 1 |
| 210 | Just A Girl | No Doubt | 68595 | 1 |
| 211 | Lollipop | Chordettes, The | 962 | 1 |
| 212 | Sweet Caroline | Diamond, Neil | 68948 | 1 |
| 213 | Only The Good Die Young | Joel, Billy | 6630 | 1 |
| 214 | No Phone | Cake | 70073 | 1 |
| 215 | Danny Boy | Presley, Elvis | 9380 | 1 |
| 216 | Wannabe | Spice Girls | 5488 | 1 |
| 217 | No Surprises | Radiohead | 66194 | 1 |
| 218 | Where Is My Mind | Pixies, The | 66297 | 1 |
| 219 | Jailbreak | Thin Lizzy | 67258 | 1 |
| 220 | Respect | Franklin, Aretha | 467 | 1 |
| 221 | You Spin Me Round(Like A Record) | Dead Or Alive | 66312 | 1 |
| 222 | Hello Seattle | Owl City | 66970 | 1 |
| 223 | Angry Inch | Hedwig & The Angry Inch | 68019 | 1 |
| 224 | Common People | Shatner, William | 69304 | 1 |
| 225 | Almost Cut My Hair | Crosby, Stills, Nash & Young | 63311 | 1 |
| 226 | Origin Of Love, The | Hedwig & The Angry Inch | 68023 | 1 |
| 227 | Love Song | Cure, The | 56892 | 1 |
| 228 | Separate Ways (Worlds Apart) | Journey | 11752 | 1 |
| 229 | She Came In Through The Bathroom Window | Beatles, The | 9824 | 1 |
| 230 | Hip To Be Square | Lewis, Huey & The News | 3621 | 1 |
| 231 | Jessie's Girl | Springfield, Rick | 67947 | 1 |
| 232 | Telephone | Lady Gaga And Beyonce | 66347 | 1 |
| 233 | Call Me | Blondie | 68405 | 1 |
| 234 | Hey Bulldog | Beatles, The | 11357 | 1 |
| 235 | Fly | Sugar Ray | 707 | 1 |
| 236 | Honky Tonk Badonkadonk | Adkins, Trace | 12256 | 1 |
| 237 | Knockin' On Heaven's Door | Dylan, Bob | 69146 | 1 |
| 238 | Don't Stop | Fleetwood Mac | 6235 | 1 |
| 239 | Folsom Prison Blues | Cash, Johnny | 3102 | 1 |
| 240 | Ditty | Paperboy | 67487 | 1 |
| 241 | Aerials | System Of A Down | 68176 | 1 |
| 242 | Scientist, The | Coldplay | 10160 | 1 |
| 243 | You Make My Dreams | Hall & Oates | 2333 | 1 |
| 244 | Whip It | Devo | 1083 | 1 |
| 245 | Come On Eileen | Dexy's Midnight Runners | 12038 | 1 |
| 246 | Lonely Boy | Black Keys, The | 69668 | 1 |
| 247 | Like A G6 | Far East Movement feat. Cataracs & Dev | 67209 | 1 |
| 248 | Lightning Crashes | Live | 2091 | 1 |
| 249 | Hardest Button To Button, The | White Stripes, The | 69677 | 1 |
| 250 | Empire State Of Mind | Glee Cast | 67632 | 1 |
| 251 | Just A Gigolo | Roth, David Lee | 11835 | 1 |
| 252 | Major Tom (Coming Home) | Schilling, Peter | 69528 | 1 |
| 253 | Summer Of 69 | Adams, Bryan | 10270 | 1 |
| 254 | Nuthin' But A G Thang | Dr. Dre | 63411 | 1 |
| 255 | You Get What You Give | New Radicals | 67779 | 1 |
| 256 | Don't Stop Believin' | Journey | 11750 | 1 |
| 257 | Smoke Two Joints | Sublime | 68237 | 1 |
| 258 | Changes | Bowie, David | 6447 | 1 |
| 259 | Torn | Imbruglia, Natalie | 700 | 1 |
| 260 | Friends In Low Places | Brooks, Garth | 399 | 1 |
| 261 | Brown Eyed Girl | Morrison, Van | 95 | 1 |
| 262 | 99 Luftballons | Nena | 67380 | 1 |
| 263 | You Sexy Thing | Hot Chocolate | 8809 | 1 |
| 264 | What I Got | Sublime | 63470 | 1 |
| 265 | American Pie | McLean, Don | 92 | 1 |
| 266 | Dude (Looks Like A Lady) | Aerosmith | 11961 | 1 |
| 267 | Jeremy | Pearl Jam | 11882 | 1 |
| 268 | Bullet In The Head | Rage Against The Machine | 57146 | 1 |
| 269 | Empire State Of Mind | Jay-Z & Alicia Keys | 63489 | 1 |
| 270 | Friday I'm In Love | Cure, The | 12549 | 1 |
| 271 | Mrs. Robinson | Simon & Garfunkel | 332 | 1 |
| 272 | I Got You (I Feel Good) | Brown, James | 330 | 1 |
| 273 | Vanilla Twilight | Owl City | 66104 | 1 |
| 274 | Blue Monday | New Order | 56908 | 1 |
| 275 | Heaven | Adams, Bryan | 8112 | 1 |
| 276 | Hold On | Wilson Phillips | 1712 | 1 |
| 277 | People Are People | Depeche Mode | 69912 | 1 |
| 278 | Animal | Neon Trees | 67020 | 1 |
| 279 | Right Here Waiting | Marx, Richard | 1476 | 1 |
| 280 | Pumped Up Kicks | Foster The People | 68763 | 1 |