INTRODUCING… Virtual Voicebox!
The magic of Voicebox is now online and free to use! Sing, chat and stay connected!
Just because we have reduced hours and capacity  doesn't mean your celebration needs to stop! Voicebox is now offering virtual parties during these tough times when folks may not be able to gather together with friends and family. We are wishing you all well and we can't wait to see your smiling faces again when we are able to reopen.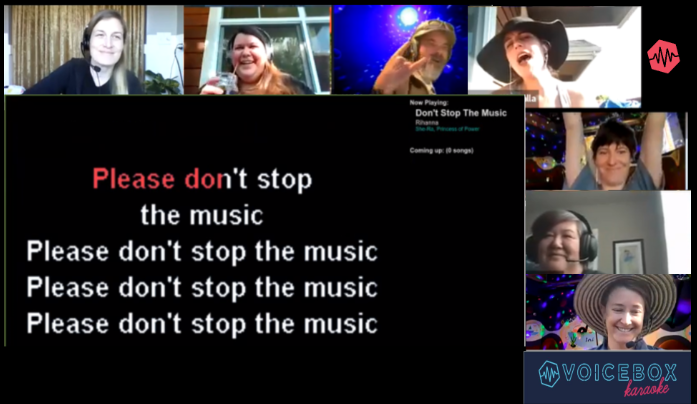 Book in three simple steps:
Use our new booking form to confirm your online party date and time!
Download Zoom to a desktop or laptop (and have your friends do the same!)
Grab your favorite headphones with a built-in microphone and get ready to SING!
Book your virtual party online
Virtual Voicebox is open Wed-Sun from 4pm-midnight (Pacific Time)
---
BEFORE YOU GET STARTED, READ THROUGH THESE TIPS SO YOU'RE READY TO ROCK.
Q: WHAT IS VIRTUAL VOICEBOX AND HOW DOES IT WORK?
A: Virtual Voicebox allows our guests to stay connected to celebration by booking their own private online karaoke party! Virtual Voicebox parties happen via the Zoom App in a Zoom Meeting. Before your party, make sure all participants have downloaded the Zoom app here. Once you have confirmed your reservation, you will be sent a private link containing your unique Zoom meeting. Share this link with your guests – it's like a private suite, but digital!

Q: WHAT DEVICE WILL I NEED TO CONNECT?
A: A desktop, laptop, or larger tablet, like an iPad work great! You can also use a smartphone to connect if that is all you've got, however we do not recommend it.
Q: WHAT ABOUT A MIC?
A: Brittany wore it best. We recommend using a headset with a built-in microphone. Most smartphones come with this type of headset and it will allow the mic to pick up your voice in isolation.
Q: INTERNET? DIAL UP? LANDLINE?
A: WiFi strength and Internet connectivity matters! Just like with any video conference, signal strength and your connection speed can determine how much lag you experience. So get in a good spot to connect before joining your party.
Q: WHAT SONGS ARE AVAILABLE, AND WHERE CAN I BROWSE AND SELECT THEM?
A: As always, song selection and karaoke party control happens on vbsongs.com.
Q: ANY OTHER TIPS TO SET THE MOOD?
A: Try a Zoom background. If you'd really like to transport yourself back to Voicebox, use one of the images we've included below. For information on changing your Zoom background, read their tips here.
---